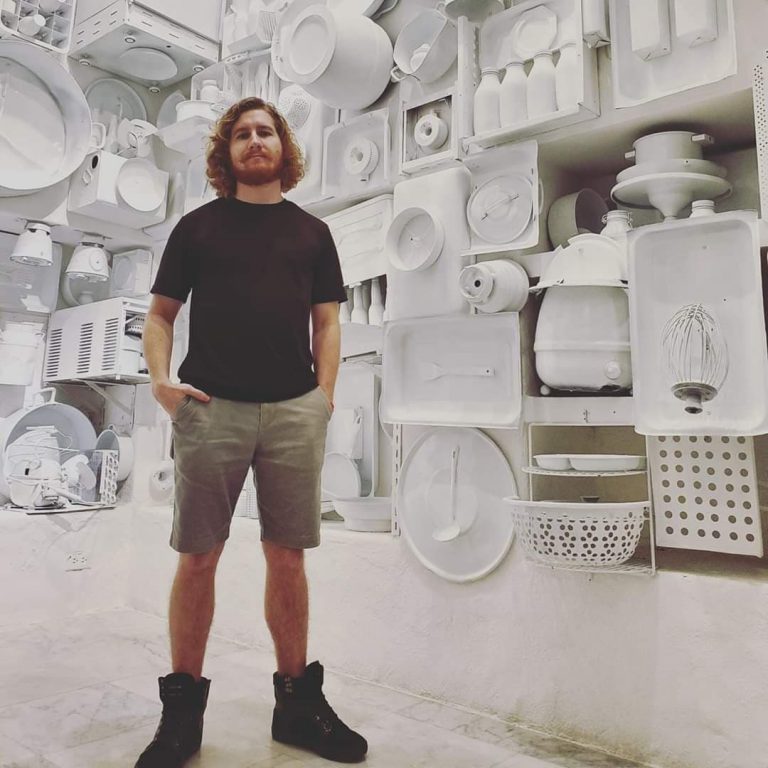 I was born and raised in Nebraska, but that's never an interesting introduction so I usually just say I'm from "Raska." Funny enough no one ever questions it, they just say "cool" pretending they know where that is. Don't get me wrong, as boring as it was growing up in a small town I was fortunate enough to travel many places around the world and experience what life really has to offer. What I came to realize is that its not about the beautiful landscape, or the amazing food, it's about the people and the connections you create with them. When I graduated High School I was presented with 2 options, get a skilled trade job or go to college. I have always been frugal with money and did NOT see the benefit of going into debt to attend a college, to get a degree that might land me a job that I probably hate. So.. I took a trade job, I figured I could always go to college later if I really wanted to and use my trade skill as a fall back. But after a year, I was presented a different path…
I used to believe that everyone dreams of starting a business, and on paper business made sense, it just wasn't as expected. I don't know if I had an epiphany or if it was just a really good sales pitch but the first "Business Opportunity" that presented itself to me… was Amway. And at first, it was actually pretty good! I was learning a lot about marketing, networking, and meeting interesting people at weekly meet ups (ranging from a dozen people to a room full of hundreds!). But then I started looking at things from a different perspective and realized… NO ONE KNEW HOW TO MARKET! The few who found a small level success would use that as leverage constantly, using that to funnel in more people (because funneling new people in was easier than selling their products). This recipe for a disaster lasted 6 months before I quit. DON'T get me wrong I fully believe you only fail when you give up, but giving up on a toxic community built on lies and marketing to friends and family was something I was willing to FAIL at. I knew there was a better way to Market and Make Money Online, and I set out to find the RIGHT OPPORTUNITY.
Overnight I found SUCCESS! Just kidding I actually endured years of struggling and learning how to market online, using different strategies and techniques. I studied everything, from Drop Shipping, to Amazon FBA, Day Trading, Real Estate Investing, Private Labeling, Email Marketing, SAAS, and even MLM's. While I did learn a lot I never succeeded because quite frankly I never put in decent effort. I just assumed that if I put in the work and set up shop that customers would come. Luckily I am about to learn how to change that and…
In 2016 I decided to pull the trigger and buy my biggest business asset, a Camera. After studying for years I noticed I was learning most of my information from YouTube. Most of what I watch on YouTube is educational and I noticed a lot of the channels I was watching grew thousands, even hundreds of thousands in just a year or two. I could no longer sit in the dark, I had to start a channel and what better topic than documenting my journey and what I have learned along the way. The first video I made was a trip to Europe using a GoPro, and the video was… Horrible. The audio was distorted, the footage was shaky, and angles were awful. But.. I loved it! I threw it all together using some free editing software and posted it online. Since then I have been hooked and 2 years later I invested in a Canon 80D and started taking YouTube serious. It still wasn't smooth sailing, I had no idea what I was doing and faced a lot of learning curves. After 3 months I decided to take a few courses on how to grow my channel, and followed the training religiously. 6 months later I had grown my channel over 10,000 Subscribers and began monetizing with different affiliate offers and ads.
I enjoy long walks on the beach and… Oh Wait this isn't my dating profile!? In all seriousness I have always had a creative edge, and making content for YouTube helps me scratch that itch. I have been in a number of short films and love the creative process, I try to bring the same process and fundamentals when creating content for my channel.
I am very passionate about Health, I ended up breaking my L4 L5 vertebrae when I was just 19 in a weight lifting accident. Most people spend their whole lives chasing money, and while I have no issue with working towards Wealth, I do have an issue with sacrificing Health for Wealth. The 3 Keys to Life are Health, Wealth, and Happiness. Focusing on just one will not help you find fulfillment in life.
I want to help you achieve your Goals it gives me more than personal satisfaction, it gives me a sense of Fulfillment. The drawback is I can only help those willing to receive help, if I can I will.